Coronavirus Update
Last updated: 23 Apr 2021
Visiting Dartmoor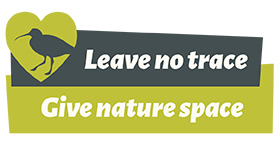 From the 12th April the Government has eased some further restrictions.
We'd like to welcome visitors back. Our visitor centres are now open and ready to help you enjoy Dartmoor responsibly. However, please note that our exhibition, interpretation and activity areas at all centres are not open at this time.
We know that discovering or rediscovering nature and wildlife has played a big part of many people's lockdown life. We are asking people to Leave no trace. Give nature space.
The connection to Dartmoor is a source of joy for us all. The freedom to now travel and spend time on the moor in the fresh air will be a welcome mental and physical wellbeing boost - at this time of year it's truly magical.
We know that most people want to help us protect this special environment and it's important to leave no trace of your visit. That way when you go, nature comes back and reclaims the space you left, making room for us all to share this special landscape.
Please continue to respect the people who live and work on Dartmoor. It is a working environment where farmers need to be able to tend their animals on open common land and in their fields. Please don't park in gateways or driveways and avoid paths through farmyards and gardens. Farmers are busy lambing and calving; many have worked around the clock throughout the lockdown.
Think about each other and the space we all need to enjoy the countryside safely. Our advice is to plan ahead to avoid busy places and times, check local information and travel reports. If you arrive and the place you hoped to visit is busy, have an alternative location in mind that might be quieter, and where you may hear a skylark singing.
We know how important connecting with the outdoors is for our physical and mental health and wellbeing. Our priority is to help people remain safe – those who come to exercise and the people who live and work in the National Park.
The Government guidelines on accessing green space safely provides some good advice.
Camping and overnight stays
Single households are now permitted to stay overnight in holiday accomodation, this includes campsites. If you are planning on wild camping as part of your walk please see where you can and can't camp and remember that wild camping is carrying everything you need in a backpack and leaving no trace of where you have been. Our camping pages and camping map will provide you with further details.
Car parks, toilets and visitor centres
National Park Authority car parks are open. If car parks are full, please do not park on verges, double yellow lines, in front of gates and entrances, narrow lanes or anywhere on the road where you will block access. Access must be kept clear for farmers, residents and emergency services.
Our toilets will remain open at:
We're asking that a maximum of two people use them at any one time to help stick to social distancing rules.
We will close toilets when undertaking enhanced cleaning measures and ask people to be patient and not to go into them while work is happening.
Our visitor centres at Princetown, Postbridge and Haytor are open.
Please note that the exhibition, interpretation and activity areas at all centres are not open at this time.
We kindly ask you to make a few changes to the way you visit to protect yourself and our communities, so we can all do our bit to control the spread of Covid-19. Every single action you take will make a difference. Please:
Be careful
Be considerate
Be compassionate
The Countryside Code
The Countryside Code has been updated and has some helpful advice and guidance on the different types of signs you will see and what that means about where you can go.
Public Rights of Way
Public Rights of Way and Coronavirus (Covid-19)
National Park Authority
Our HQ at Parke remains closed to the public.
Most of our staff are now working from home. You can still reach us by phone or email in the usual way.
Formal meetings, including Authority and Development Management Committee, will take place via video conference. Please refer to the updated calendar of meetings.
Planning service
For the foreseeable future we will only be able to receive new planning applications electronically through the planning portal website. We will not be able to deal with planning applications that are received by post until further notice.
We will be continuing to validate and process applications where possible and will keep you informed where there are any problems or delays. See our planning advice page.
Dartmoor Businesses
Coronavirus (COVID-19) is already impacting business on Dartmoor and has the potential to significantly impact our rural economy.
Whilst we as a National Park Authority are not in a position to provide legal advice or to provide public health advice, we can help share the various resources available for local businesses. These are available on the Business page.