Ian Brooker
How can you tell when summer has arrived on Dartmoor?
All the wonderful birds return –Swallows, Wheatears, Ring Ouzels and of course our Pied Flycatchers. A great sight and makes you feel really privileged! Also the smell of the Moor changes!
Where is the perfect picnic spot in your patch?
Black-a-Tor looking down into the West Okement Valley
What's the best advice you give visitors to the park?
All my advice is good hopefully but it's great to help 'guide' people to get the best out of the area.
What would you like to see more of at this time of year?
Greater, personal responsibility to avoid conflicts with other users and wildlife!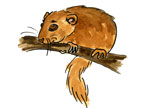 Dartmoor has the best of?
Everything
How do you measure a 'good day at work'?
Actually achieving something that is tangible!
If I wasn't a ranger I'd be a?
Mountain guide