Peter Rich
How can you tell when summer has arrived on Dartmoor?
The smell of cut hay from the fields.
Where is the perfect picnic spot in your patch?
Cranbrook Castle, Moretonhampstead
What's the best advice you give visitors to the park?
Where to spot Dippers on the River Teign
What would you like to see more of at this time of year?
Butterflies – Pearl Bordered Fritillaries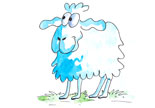 Dartmoor has the best?
Rangers!
How do you measure a 'good day at work'?
At this time of year looking behind me at a freshly strimmed footpath.
If I wasn't a ranger I'd be a?
Farmer