Ash Dieback
Ash Dieback is a fungal infection affecting common ash trees. The infection was first spotted in the UK in 2012 and has now spread across the UK. The infection rates in Devon have soared in the last two years and it is now widespread across Dartmoor and still spreading.
Managing infected trees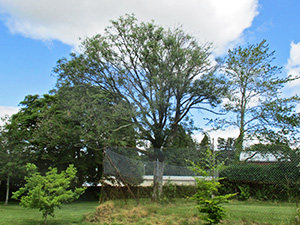 Infected trees can rapidly lose foliar (leaf) cover and some cases die within 6 months of the first signs of infection. Infected trees can become brittle and susceptible to other infections such as Honey Fungus, which can make them liable to suddenly break in high winds.
Infected trees should be monitored and a risk assessment carried out. Evidence suggests that trees with 50% foliar loss are unlikely to recover and with this level of foliar loss the structural capability of the tree becomes compromised and action may need to be taken.
Protected trees
Landowners within the National Park with ash trees protected by a Tree Preservation or standing in a Conservation Area should contact the Dartmoor National Park Trees Officer on 01626 832093 or hq@dartmoor.gov.uk to discuss appropriate management of their trees.
What action is being taken?
The Devon Ash Dieback Resilience Forum has produced a Devon Ash Dieback Action Plan, a series of advisory leaflets and guidance notes. Dartmoor National Park Authority is represented on this group. Find out more about Ash Dieback across Devon (opens in new window).
For more information on the disease, how to identify it and its spread visit the Forestry Commission website (opens in new window).