Camping
Backpack camping on Dartmoor commons
Backpack camping on Dartmoor offers access to some incredible places but it's really important to understand what backpack camping is (and what it isn't). Please make sure you read the backpack camping guidelines before planning an overnight stay.
How can I go backpack camping (wild camping) on Dartmoor?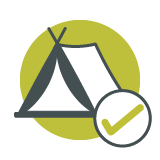 Check the interactive map which clearly shows where you can backpack camp without needing prior approval from the landowner. You must check this before you plan your trip
What is backpack or wild camping?
If you can carry everything you need in your backpack as part of a Dartmoor walking expedition, you can backpack camp for one or two nights in some areas of open moorland, and out of sight from roads or settlements using a 'no impact' approach.
Planning and preparation is essential for this type of activity. This includes having the right equipment and navigational skills to survive safely 'well away from civilisation', and crucially, knowing where you are allowed to camp. This is the only type of camping permitted, however you cannot camp everywhere in the National Park. It's vital that you know where you can go before setting off.
Check the Interactive Camping Map
Find out how you can love moor life by following the Ranger Code
Ground nesting bird season 1 March - 31 July
Please take extra care during this time and avoid the rare bird nesting sites.
Backpack Camping Code
Following the Backpack Camping Code will help to protect Dartmoor's fragile moorland environment.
Travel light
Use a lightweight tent and equipment that fits into a backpack you can carry
Staying one or two nights max as part of your longer walk or expedition
Stay out of sight
Small and lightweight tents which easily blend into the landscape
Out of sight from roads and buildings
There must be no more than six people in a group
Tread lightly
No open fires or BBQs
Take all litter home
Bury poo and used toilet paper under at least 15cm of turf (you will need to take a trowel with you)
Don't pollute streams or rivers
Avoid disturbing wildlife, particularly during lambing and bird breeding season (1 March - 31 July)
Remember Dartmoor is a beautiful and special place
If you worry about carrying your rubbish out, need a bin or a toilet ,or need more equipment and facilities to enjoy back pack camping, then this isn't for you – please use a campsite instead!
Camping in family sized tents, as a large group, in camper vans and motor homes
Designated campsites are a must for large tents, camper vans and motor homes.
There are friendly farm campsites, rustic camping barns, isolated bunk houses and fantastic hostels, together with huts and pods where you can view Dartmoor's dark night skies and enjoy its peace and tranquillity.
Look out for small farm campsites if you want a remote, more intimate feel with basic facilities.
Search campsites and caravan parks
Motorhomes and camper vehicles
If you plan to visit in a motorhome the vehicle size may mean some roads are off limits. Please don't rely on satellite navigation systems to get you to your destination, but use the helpful Coach Driver and Motorhome Guide for Dartmoor map (PDF) to plan your route.
It's OK to pull into a layby to admire the view and have a cup of tea, but overnight sleeping in vehicles at the roadside or in car parks is not permitted under National Park byelaws.
Please use designated sites which accept motorhomes for your overnight stay.