Current Projects
There are many great projects running across Dartmoor over the next few years. Here are just a few you can support through donating:
Miles without stiles
Dartmoor National Park is here for everyone to enjoy and explore, no matter what your level of ability, needs or background. Donate for Dartmoor has supported the Miles Without Stiles project that aims to make Dartmoor more accessible by creating stile-free routes.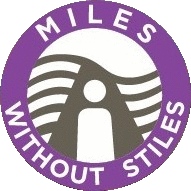 Miles Without Stiles are stile-free routes, meaning that they are suitable for those with limited mobility. These routes are suitable for a wide range of users including those in all-terrain powered mobility scooters and families with younger children.
All routes are graded as suitable for some, for many or for all and have been checked by the Recreation and Access Team, working with Dartmoor Wheelchair Access Group.
Any donation you can afford will help us to continue with this work that means everyone can enjoy Dartmoor.
Miles Without Stiles routes can be found here.
Tackling invasive plants
Invasive non-native plant species are a threat Dartmoor's precious wildlife and habitats because they displace native plants and disrupt ecosystems.
Invasive non-native species can be extremely costly and difficult to manage if allowed to establish.
We're working with the help of others to stop this from happening by finding out where the invasive plants are, and taking action to prevent their spread.
The scale of the problems means we have to prioritise where we work and which threats to tackle, but every one of us has a duty to not cause these invaders to spread from our own gardens or land, and with coordinated action we know we can make a difference where they have taken hold.
The invasive plants are harmful because they out-compete our native flora for light, space, oxygen and nutrients, something which impacts on animals and insects including dragonflies, birds and otters.
Research and monitoring has shown the biggest threats to Dartmoor's habitats are the Himalayan Balsam and American Skunk Cabbage which is why we are focusing our efforts on these particular species.
Read more about the project here.
Just £5 Can help towards the cost of equipment for the volunteers who are helping to clear these plants.
Southern Damselfly Project
£130 pays one person for a day to dig the narrow stream channels required for the aquatic larvae to live in. This essential habitat management gives the Southern Damselfly every chance to thrive. We are aiming to raise £1,500 this year to help further our knowledge of the Southern Damselfly and increase numbers in the unique habitats found across the moor.
Find out how your donations have supported past projects.
If you would like to keep up to date with all our projects and moor stories why not sign up to Moor Life, our quarterly e-news.