Moor Otters Projects
Our last Moor Otters public arts trail in 2017 saw 101 otter sculptures in various locations across Dartmoor and surrounding towns. The public arts initiative aimed to raise funds to support projects to conserve and enhance Dartmoor's wildlife and landscape, improve accessibility to the moor and develop Dartmoor's Junior Ranger programme.
We generated £60,000 of net income which was split equally between three projects. They are:
Junior Rangers: £20,000 over two years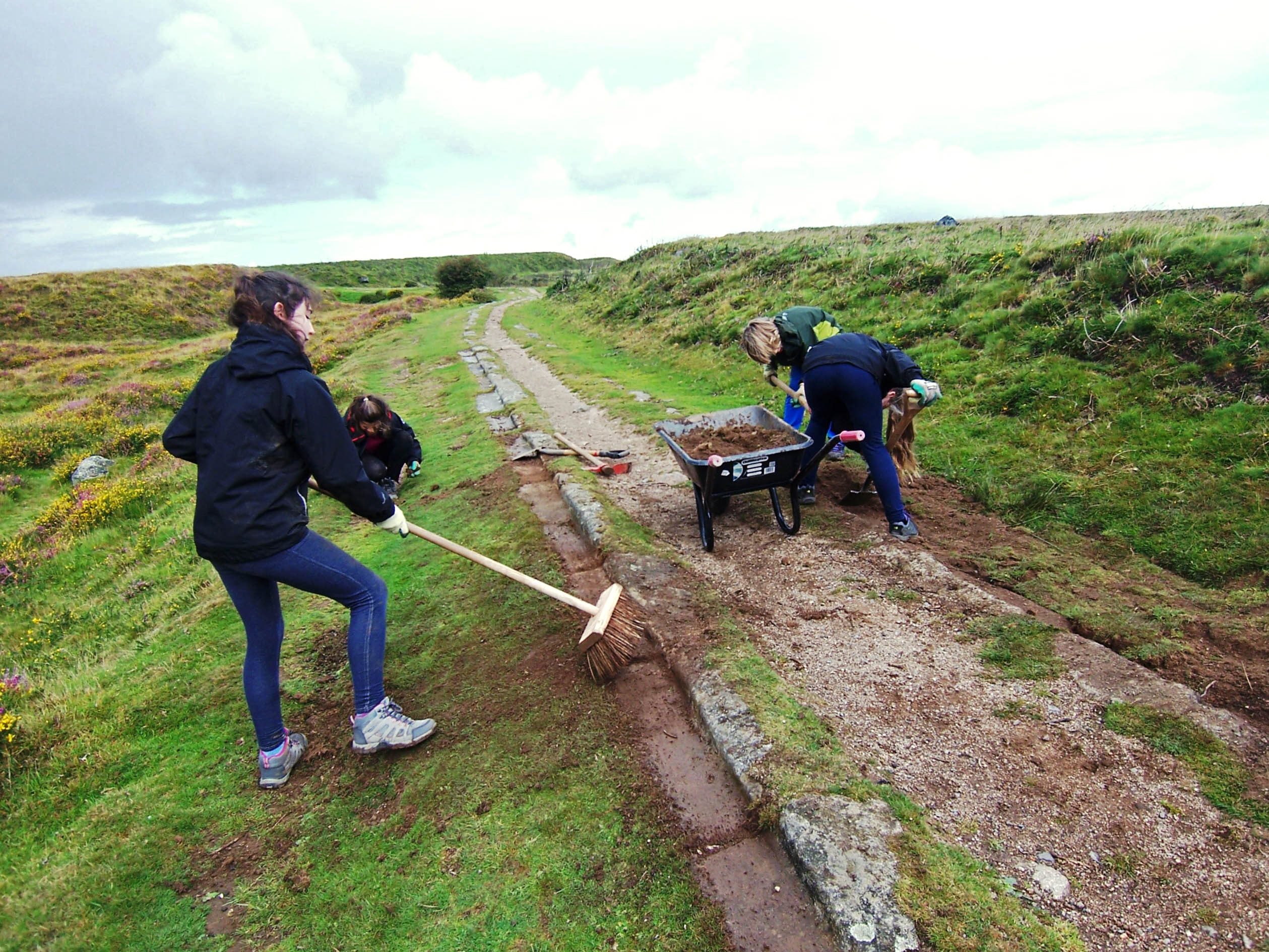 The project offers people between the ages of 12 – 16 a chance to develop a deeper understanding and passion for Dartmoor, as well as developing practical and personal skills. It was run as a pilot project until the injection of £20,000 thanks to Moor Otters.
Junior Rangers is an enjoyable way to become an ambassador for Dartmoor. There are tons of opportunities for learning, meeting like-minded people and having loads of outdoor fun.
Commitment to the programme is recognised with not one but four different awards:
These certificates and awards help build a portfolio of achievement for those interested in a career in countryside management and can also be used to demonstrate motivation, commitment and personal development to employers or university admissions boards.
Awards
The Moor Otter funding also helped Dartmoor National Park's Junior Rangers win the Dartmoor Preservation Association shield in 2017 and in 2018 the prestigious UK National Parks Volunteer 'Group' Award.
Invasive Non-native Plant Control: £20,000 over two years
We are taking direct action to tackle a very real threat to Dartmoor's environment and wildlife - the spread of non-native invasive plants. The funding has helped us to build on successful trials and expand their scope to protect more habitats and involve more communities. We are concentrating our efforts on two species, Himalayan balsam and American skunk cabbage. These species are closely associated with streams, rivers, wetlands and ponds - the same habitats in which Dartmoor's otter population thrive.
Himalayan Balsam
We know from work elsewhere (e.g. River Tale in East Devon) that this is something we can tackle at a local community scale. A willing group of volunteers pulling up the plants before they flower can clear this plant in just 2 years. We are probably never going to eradicate this invader from an entire river catchment as large as the Dart or Tavy, but we can still make a difference in the upper tributaries. Moor Otters funding has enabled us to initiate a two year programme of control in priority catchments.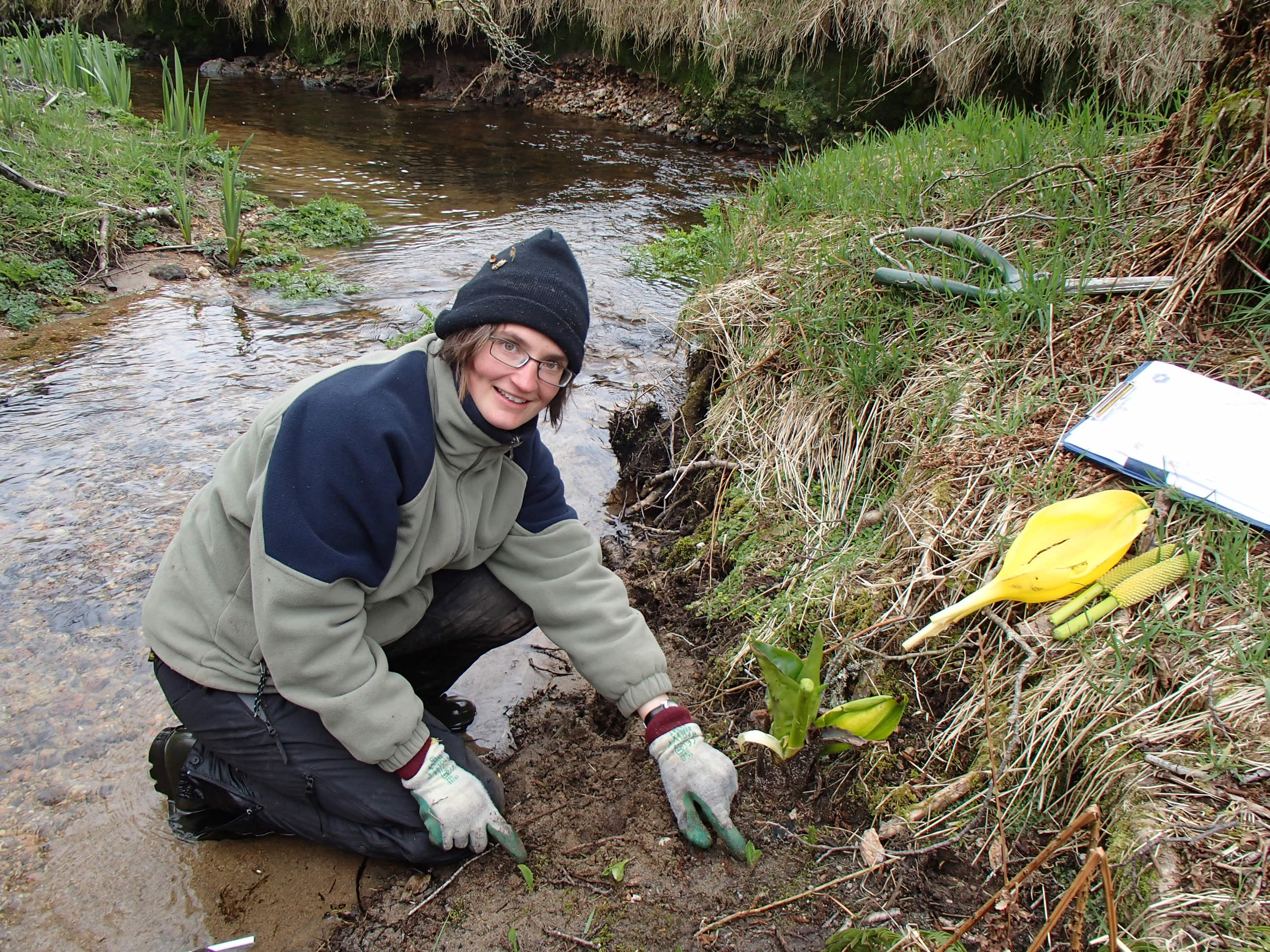 American Skunk Cabbage
The presence of this plant on Dartmoor has been known for many years. We have already taken action to control the plant at two locations, with the cooperation of the landowners, the local community and Moor than Meets the Eye landscape partnership. In 2018 we worked with land managers and local community volunteers to survey all accessible known sites, assess their threat and prioritise actions. We are using Moor Otters funding to offer advice and specialist help to control the plant at sites of high wildlife value.
Repairs to Erosion: £20,000 over two years
There are many projects across the moor that are benefitting from these funds, they include:
Path improvements works on path to Hound Tor medieval village; gorse clearing, fencing and signage
Laughter Hole path repairs on erosion of heavily used bridleway
Vitifer mines path repairs; storm damage on well used tracks in the vicinity
Clearance of gorse from hut circles near Hound Tor
Improvement works to heavily used path beyond Hartyland house, Postbridge
Repair of permitted route around Wrangaton Golf course
Work groups to dig out drains and insert granite setts on the Two Moors Way above Bennetts Cross, Postbridge.
Wistmans Wood
A popular footpath that runs from Two Bridges up to the very special and iconic Wistmans Wood. Over the past the path has predominately suffered from localised heavy rainfall. A serious of potential solutions regarding drainage has been agreed and securing funding means this important work can be undertaken.
Postbridge/Grey Wethers
When proceeding along the bridleway north of Postbridge you face a wall of very large gorse. You cannot continue on the actual bridleway at this stage but there is a very well used and now heavily eroded track. The proposed work in this area is firstly to cut another one or two linear routes through the gorse to spread footfall and block off the eroded track, thanks to Moor Otter funding this work can now be carried out.
Abbots Way route
The very rocky and sunken track (but underneath hard surface) section of the Abbots way route above the Avon Dam on Dean moor has been overgrown with gorse which is forcing users to cause erosion on the moorland on one side. Rainfall is now also rushing down the track causing further problems and erosion. Vegetation is being cut back, remove some of the loose rocks and to reopen blocked drainage channels to take water away from going down the track.
We are grateful for the support of the following organisations: South West Water, The Duchy of Cornwall, Bearnes Hampton & Littlewood, Absolute PR and Marketing, Western Morning News, Melchior Chocolates, Jolly Roger, The Art of Fundraising, Mail Boxes Etc and Bovey Castle.