Simon Lee
How can you tell when summer has arrived on Dartmoor?
When I need to start strimming paths
Where is the perfect picnic spot in your patch?
At the base of Haytor rocks, out of the wind overlooking the sea
What's the best advice you give visitors to the park?
Where to go for the best walk
What would you like to see more of at this time of year?
Responsible dog owners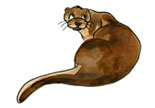 Dartmoor has the best?
Backpack Camping
How do you measure a 'good day at work'?
That I have achieved all the practical jobs on my list and helped visitors enjoy their day
If I wasn't a ranger I'd be a?
Bear biologist in Denali National Park, Alaska